Our family loves to travel. My list of Places To Visit is ever-growing, and I am always looking forward to our next trip. Most of our trips involve a lot of driving (o
ur 2 month stay near Toronto
included the most miles logged), and the time spent in the car can make or break the whole trip.
In order to keep bickering at bay on our recent trip to
Lake Powell
, I planned a few surprises to pass out along the way. I printed out a map showing the route we'd be driving, with 6 points listed between Home and Lake Powell. I hung the map on the ceiling where both big kids could see it. At each point, if Ellie and Ethan had been getting along, they would receive either a small snack or a new activity to keep them busy. They watched road signs and counted down the miles til their next surprise.
Some of the surprises were to share and some were for the kids to use individually. We planned to use the same places on the way home to hand out more activities/snacks, but we were all pretty miserable after a rough night full of sickness. The kids slept a lot and didn't get to many of the things I planned for the way home. I'll just tuck them away for our next trip.
Activity suggestions:
Dover coloring books
are our absolute favorite books to color. They are challenging enough that my sisters and I love them, too. They have multiple books available for just about any time period in history and many, many inspirational figures as well as anything from
garden parties
to
dragons
. On this trip, I packed
Incas, Aztecs and Mayas
and
The Renaissance
.
I designed and made this
Ocean Felt Play Mat
for Ethan to play with on the trip.
Ellie fell in love with the watermelon embroidery pattern from my
Summer Love Collection
, so I put together a little kit for her to work on in the car. It included everything she'd need to complete the project.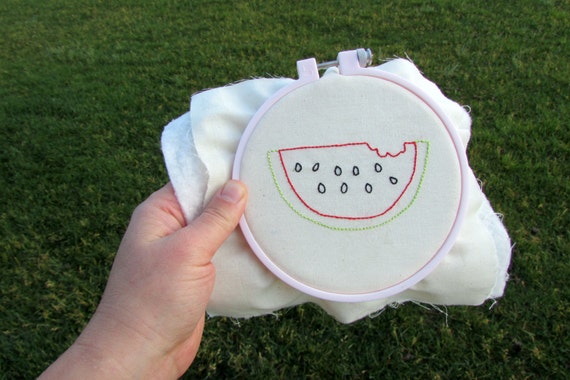 This new
Spot It game
is perfect to play in the car. It includes instructions for using the cards to play a version of Car Bingo as well as a few other games.
A new movie to watch
. I totally thought this was a different movie that in was, but the kids liked it anyway :)
Ethan is obsessed with chess lately. So
this game
seemed like a great fit. We actually didn't end up getting this one out, since the kids were sick and slept most of the way home.
Ellie squealed with joy when I pulled out this
reusable sticker pad.
Herdream is to be an interior designer when she grows up, so this was right up her alley.
Snacks included:
Trail Mix
Granola Bars
Juice boxes (a very rare treat in our house)
I was really pleased with how well this system worked and we'll definitely be using it again in the future. Only once did we have to remind a child to quit whining or they'd lose their next surprise. It made the trip go much more smoothly.
What travel tricks do you have up your sleeve? How do you keep everyone happy on long car trips?